The Director / Fire Coordinator acts as a Liaison to the Fulton County Fire Advisory Board. Along with the 8 Volunteer Deputy Fire Coordinators, the Director / Fire Coordinator provides support and assistance to all County Fire Departments during fire related incidents, other emergencies, and also during non-emergency situations.
The Fulton County Emergency Management / Fire Coordinators office also works in conjunction with the 5 State Fire Instructors assigned to Fulton County to arrange the scheduling and delivery of fire training courses to all county fire personnel. The office is also responsible for the safe operation and continued maintenance of the County Fire Training Center and Burn Building.
Other Responsibilities include overseeing the operation of the County Cause and Origin Team and the County Hazardous Material Response Team".
The Fire Coordinator also acts as the County's Code Enforcement Officer. In this role he is responsible for fire safety inspections and code enforcement activities involving county buildings and county construction projects.
Fulton County Emergency Management App
Upcoming Training
Fulton County Emergency Management Training Overview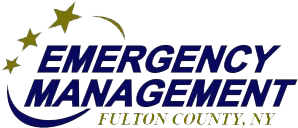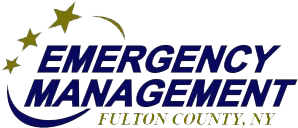 Updated 6/22/23 1400hrs
Pre-Registration is Required for all courses⬀.
When registering please us LMS ( https://LMSPortal-DHSES.ny.gov⬀ ). If you don't yet have an account, click on "Web Forms" in the top right of the screen and complete the "DHSES LMS Portal-New User Access Request Web Form" to obtain an account.
OFPC requires all studies to upload a completed, signed Training Authorization Letter to LMS before they will be enrolled in the class.
If you do not upload a signed letter, you will not be permitted to attend the class.
COURSE

LOCATION

DATES

INSTRUCTOR

PREREQUISITES

REG. STATUS

Fulton Co. Fire Training Center 158 Sun Valley Rd   
Gloversville NY 12078

8/23;8/30;9/13;9/20;9/27 (1830hrs) 9/30 (Triple Session) (0800hrs)

Training Authorization Letter

Water Rescue- Awareness level (01-04-0052)-108

Hilltop Volunteer Fire Department   
7770 State Hwy 29 Dolgeville, NY 13329

Training Authorization Letter

Pump Operator (01-05-0005)

Fulton Co. Fire Training Center 158 Sun Valley Rd   
Gloversville NY 12078

8/9;8/10;8/14;8/15;8/16;8/21;8/22;8/23

Traffic Incident Management System(TIMS) (01-15-0018-67)

Sir William Johnson FD 102 Co Hwy 131 Johnstown, NY 12095

8/21; 8/28 (1800hrs – 2200hrs)

Training Authorization Letter

(BPVR) Basic Passenger Vehicle Rescue (01-04-0103

Fulton Co. Fire Training Center 158 Sun Valley Rd   
Gloversville NY 12078

9/6;9/7;9/8   
9/9 (Double Session) (0800hrs)

Fulton Co. Fire Training Center 158 Sun Valley Rd   
Gloversville NY 12078

9/11;9/14;9/16;9/25;9/26;9/27 9/30 (Double Session)

 

Highway Safety for Emergency Responders (01-15-0006)

Perth Fire Department 4080 State Hwy 30 Amsterdam, NY 12010

Traffic Incident Management

Fulton Co. Fire Training Center 158 Sun Valley Rd   
Gloversville NY 12078

10/3;10/5;10/9;10/10;10/12;10/16;10/17;10/18

Firefighter I or equivalent and students must also be physically capable of wearing SCBA and possess current medical clearance for SCBA use
For notifications of upcoming training, please like our Facebook Page "Fulton County Emergency Management⬀" or sign up on our APP